Basic information about the bank
| | |
| --- | --- |
| Business name: | 365. bank, a. s. |
| Registered office: | Dvořákovo nábrežie 4, 811 02 Bratislava |
| Telephone number: | +421 2 59 60 53 65 |
| Website: | 365.bank |
Moody's rating (September 2023)

Long/Short-term deposit and issuer ratings
Ba1/NP
Outlook on the long-term deposit ratings
Positive
Outlook on the long-term issuer ratings
Stable
Long/Short-term Counterparty
Risk Ratings (CRRs)
Baa2/P-2
Counterparty Risk Assessment
(CR Assessment)
Baa1(cr)/P-2(cr)
Baseline Credit Assessment (BCA)
ba1
Adjusted BCA
ba1
Expected issue rating (MREL instruments)
Fitch rating (September 2023)

Long - Term Issuer Default
Rating (LT IDR)
BB
Outlook
Stable
Short - Term Issuer Default
Rating (ST IDR)
B
Expected issue rating (MREL instruments)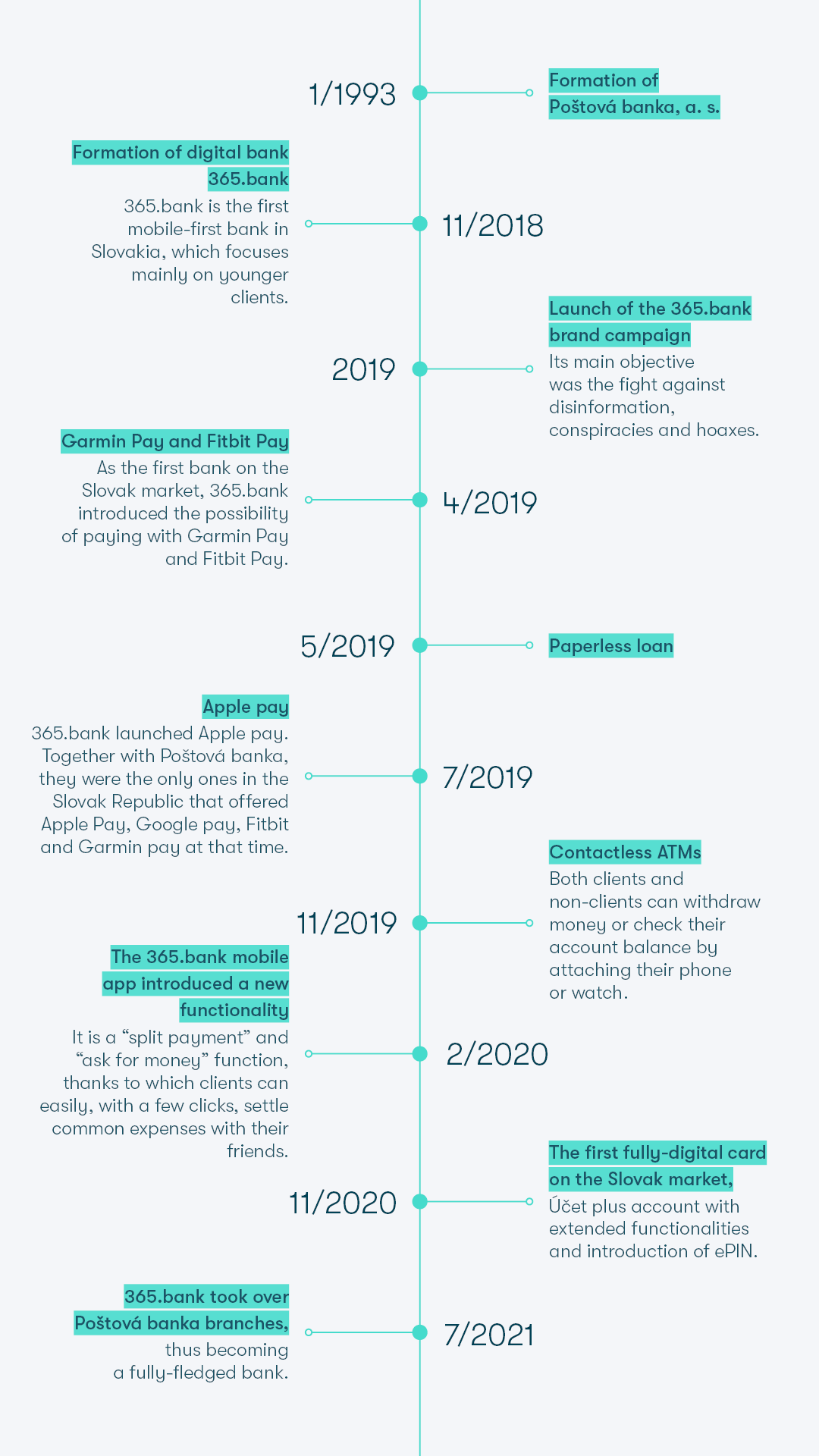 Description of business activities
365.bank is a Slovak bank that carries out its business activities mainly on the basis of the Commercial Code and the Banking Act. The scope of business entails banking activities carried out on the basis of a banking licence granted to the bank in accordance with the Act on Banks. The performed banking activities are stated in the Articles of Association and registered as the scope of business in the Commercial Register, while they are performed in accordance with the relevant generally binding legal regulations.
The bank offers its clients a wide range of banking and financial products and services. Its core activities include accepting deposits, providing loans, performing domestic and cross-border transfers of funds, providing investment services, performing investment activities and providing ancillary services under the Act on Securities.
As of 31 December 2020, the Bank operates in the Slovak Republic through 55 branches. As of 30 September 2021, 365.bank has 62 branches across the entire Slovakia.
Moreover, as of 31 December 2020, it provided banking services through 280 financial services offices and 1,543 post offices. The financial services office is an office at the premises of Slovenská pošta where a bank employee provides services and products. The post office is Slovenská pošta, a. s., with which the bank has concluded contracts under which the employees of Slovenská pošta, a. s., provide its products and services.
The bank's group reports its activities according to the following segments:
retail banking,
corporate banking.
Mission, vision and values
As part of its strategy, the bank formulates its mission, vision and values. Its values are as follows
meaningfulness,
inspiration,
humanity,
transparency.
In line with these values, it has committed in its mission to inspire people to have more money and time for everything they love. As part of its vision, it declares that "Thanks to us, it will be possible to think less about money".
It wants to be appreciated by its clients not only thanks to its professional services, modern solutions, but also because of the certainty that it will advise its clients and lead them to more responsible and prudent management of their own money.
The bank is part of 365 Group, which operates in several areas of the financial market.
The 365 Group's Code of Ethics and the 365 Compliance Code (hereinafter referred to as the Codes) have been the guiding principle of 365 Group employees' and their external colleagues' work. They carry out their work in such a way as to represent 365 Group and its values responsibly and conscientiously.
The Codes set out common values and minimum business ethics standards that are binding on all 365 Group employees. Employees are expected to understand and adhere to these Codes in any contact with any internal or external party.
If necessary, employees can contact officers responsible for supervising compliance with laws and regulations (e.g., Compliance Officer).
By adhering to high standards and acting in accordance with the Codes, each employee contributes to the positive perception of the Group by all stakeholders – in particular, clients, shareholders, business partners and the public.
The Codes are available on the intranet of the 365 Group members.
For the bank, as well as the entire 365 Group, the principles of sustainability have always been included among the basic priorities, which was also reflected in the Codes of the 365 Group's Codes. 365 Group employees are required to handle all tools and equipment with which they work or come into contact with diligence, attention, care, and consideration for the environment and the economy.
Members of 365 Group, as well as their employees, support projects focusing on environmental protection, e.g., process digitisation (paperless).
The bank provides its services and performs banking activities mainly in the domestic market in the Slovak Republic. It provides services to corporate and retail clients through various distribution channels, i.e., through a branch network covering the entire territory of the Slovak Republic and electronic channels.
As of 31 December 2020, it was the seventh largest bank in the Slovak Republic in terms of total value of assets.
Besides 365.bank, our banking group also includes the following companies:
365.invest, správ. spol., a. s.
365.invest is a Slovak company with more than 25 years of history, which is part of 365.bank Group. It began its journey as Prvá penzijná správcovská spoločnosť (First Pension Management Company) and was transformed into 365.invest in July 2021.
It is the only management company to offer the opportunity to invest online and with no need to take out a product in the parent bank. Investing is thus easy and fast.
365.nadácia was established in 2007 as Nadácia Poštovej banky (Poštová banka's Foundation). It carried out its activities under this name for 13 years. It supported many sports projects with a social purpose or projects aimed at reviving Slovak folklore and traditions. Our foundation is a typical grant organisation.
In 2020, the foundation's name was changed. It has become 365. nadácia, because it will be here for everyone who needs it every day of the year.
The purpose of the foundation is clear – help. It promotes education and helps socially disadvantaged families in need. It acts responsibly towards nature and does not forget about cultural heritage. We believe that the foundation helps where it makes sense.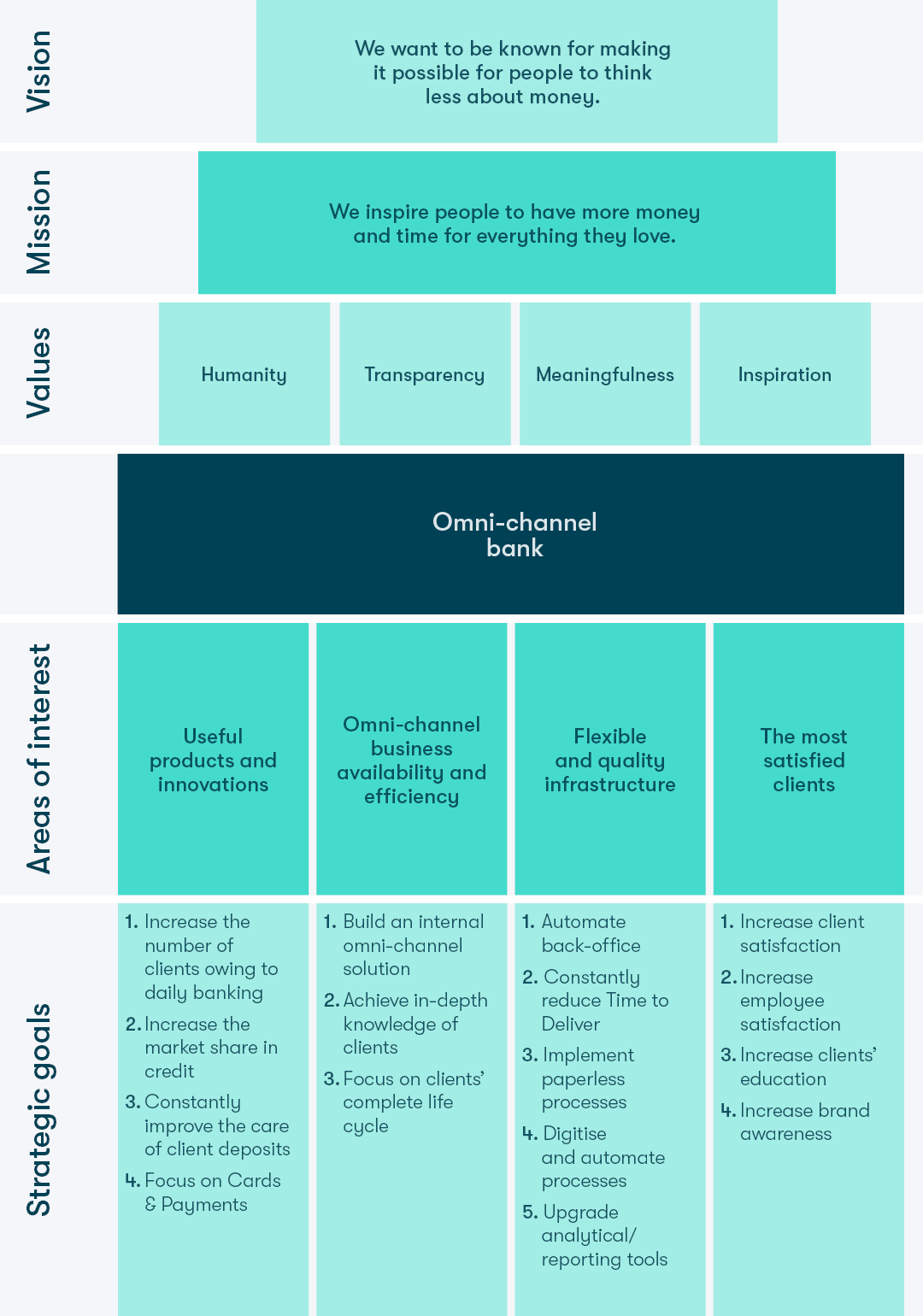 365.bank group has been offering mortgages since 2017. Our goal is to acquire new retail clients, which form the basis of a retail bank. Owing to housing loans, we can offer clients a comprehensive range of modern products, meet all their needs and retain them in the bank for as long as possible.
We are constantly innovating and accelerating the process of assessing applications. How? We include selected decision-making competencies directly into our internal system in order to be able to evaluate applications more efficiently and in a shorter period of time. This applies in particular to low-risk clients with low credit exposure compared to the value of the property. We primarily focus on clients who repay loans in other banks on a long-term basis and whose refinancing is low-risk; also, the application processing process is very simple.
Moreover, we also focus on mortgages secured in district and regional cities with the lowest possible LTV. Furthermore, there are clients whose income is easily verifiable while minimising the number of exceptions or granting no exception. Such housing loans can be partially assessed by the system, with the final assessment being up to the approver to determine the exact conditions for drawing the mortgage.
365.bank provides mortgages for standard purposes: acquisition of property, refinancing of existing loans, reconstruction of property and with no purpose. If clients are interested, we can help them acquire property in selected development projects, although it is more of an additional purpose with a minimum share in the volume of all loans provided. We do not provide housing loans for building family houses, because the overall process of providing loans is too complicated for that.
At present, clients can take out mortgages in 61 brick-and-mortar branches throughout Slovakia. Each branch team consists of 1-2 employees and a branch manager; they all have completed a workshop in this field, as well as other trainings, thanks to which they perfectly navigate the development of the market situation.
Clients can also obtain basic information about mortgages in the network of selected workplaces of the Poštová banka branch. There are currently 166 such workplaces throughout Slovakia. Increasing the number of brick-and-mortar 365 branches is part of our long-term strategy.
Besides our own network, we also provide mortgages through external companies, which receive a reward for arranging the drawdown of a mortgage. The volume of early repayments of loans before the maturity date is monitored on a regular basis and we have in place conditions for cancelling commissions that have already been paid. Remuneration of internal employees is set to be effective in order to meet our goals.
The strategy regarding interest rates for the provided loans is focused mainly on the LTV ratio, while following the logic that the higher the LTV, the higher the interest rate. 365 provides mortgages only in euros and to clients with an accepted income in accordance with internal regulations. Mortgage collateral is assessed by an internal expert, who oversees the quality of the collateral, as well as the correctness of the submitted expert opinions and verification of the value of the collateral with the market conditions and the condition of the respective property.
We follow the restrictions and rules of the regulator, especially in the area of DTI, LTV and DSTI, while the use of exceptions for LTV and DTI is carefully considered. As a rule, we grant these exemptions only to low-risk clients with a sound profile, and a stable and long-term income.
Owing to the fulfilment of set goals, constant innovation of internal systems and education of teams and external partners in the field of mortgages, we are growing rapidly and becoming an important player in the market.
Information on the bank's activities